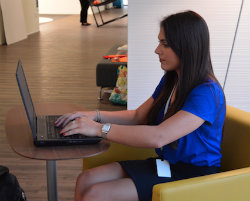 Hello! My name is Julia Cione, and I'm a born-and-raised Dallas, Texas girl. I'm a senior at the University of Alabama majoring in Public Relations, and this summer I had the opportunity to participate in AT&T's FLITE intern program. While I was interning, my friends and family constantly asked me: "What are you doing in your internship?"
Well, let me tell you: A LOT!
Of course, the end goal is to develop our professional skills and to immerse ourselves in this hands-on experience. But, the program is so much more than that.
AT&T is a place that cultivates leaders, and the internship program is no different. The norm here is to take initiative. The people of AT&T do not passively work in their jobs. Instead, they actively immerse themselves in their roles – and so do the interns.
One of the larger projects I worked on this summer was with the Business Marketing Organization. I got to develop and present a marketing strategy for Millennials. Through conducting relevant and applicable research on a real-life problem, we were able to provide executable goals for the Business Marketing Organization. I also got to practice presenting a large deliverable to a room filled with high-level individuals – a highly valuable skill that I'll use over and over again during my career.
More importantly, I learned 3 key lessons from this experience that will serve me for life:
1. Be the type of person that can adapt to change.
Things are going to be thrown at you that are initially intimidating, and maybe that's because you've never done them before. You should never let that stop you from taking on any challenging task you're prompted with. The way you handle the task is what makes you stand out. Once you learn to implement that in your life, you'll eventually find your niche. Thanks to Di Eggers, Lead Content Strategist, who taught me this valuable lesson.
2. Stay positive and remember what you stand for.
AT&T is a place where business and technology intersect on a daily basis. That means you'll work with a lot of different ideas and personalities. Success means knowing yourself and what you stand for. This allows you the space to appreciate others' ideas and work better together.
3. Career Success = Performance + Image + Exposure, Repeat
Great things don't happen overnight. In hindsight, sometimes we overlook the little details of the daily grind of life. Hopes and dreams cannot outweigh the tedious work. It's a marathon, not a sprint. The building blocks of performance, image and exposure (or PIE, as we learned) are what will allow you to climb the ladder towards your career aspirations.
My mom always said you're the average of the five people you are around the most. That thought came to me as I was sitting at lunch with my fellow strong-willed interns. There is one common denominator in each intern I've met here: we're all leaders. And I consider myself lucky to have had the opportunity to work with and learn from them this summer.
Learn More