At AT&T, the "&" is more than just 25% of our name. The power of & represents the integrated talents and unbridled possibilities of a workforce in which everyone is part of the story. It's a symbol of inclusion that defines our company as one that invites and celebrates a healthy mix of perspectives, skills and ambitions. We know that leveraging the ideas and talents of a broad group of people is at the heart of our innovation. And the greater our inclusive culture, the greater our potential to make a difference. That's why we're committed to supporting initiatives, organizations and projects that strengthen the LGBTQ+ community.
A History of Promoting Diversity and Inclusion and Prohibiting Discrimination
Our more than 140 year history comes with a long-standing dedication to leading the way for inclusion of the LGBTQ+ community:
In 1975, AT&T became one of the very first major American corporations to adopt a policy prohibiting discrimination against employees based on sexual orientation.
In 1987, LEAGUE at AT&T established, making it one of the first LGBTQ+ and ally Employee Resource Groups in the nation, now with over 4,500 members across 36 chapters in the U.S., Puerto Rico, and Mexico. The organization is comprised of dedicated employees wanting to make a difference at work and in the LGBTQ+ community
In 1998, AT&T adopted one of the first domestic partner benefits programs for LGBTQ+ employees.
In 2006, AT&T was one of the first U.S. corporations to offer transgender-inclusive health care benefits.
In 2021, AT&T launched Pronoun Pins for employees to share their preferred pronouns and show customers we respect all gender identities.
In February 2021, AT&T reaffirmed its support of the Equality Act, extending full civil rights protections to our LGBTQ+ friends, coworkers, and family. AT&T has invested $200 billion with businesses and enterprises owned by minorities, women, service-disabled veterans, LGBTQ+, and people with disabilities in the last 52 years.
Community Supporter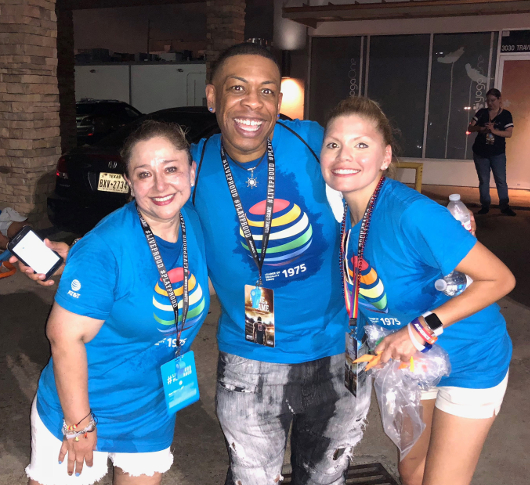 AT&T Turn Up the Love is a year-round marketing platform for the LGBTQ+ and ally community. We turn up the love by celebrating important moments for the community, by promoting acceptance, and by connecting you to important resources like The Trevor Project.
In 2018, AT&T announced a multi-year initiative with The Trevor Project, the leading national organization providing crisis intervention and suicide prevention services to lesbian, gay, bisexual, transgender, queer & questioning (LGBTQ) young people under 25.
In June 2021, AT&T extended its support to The Trevor Project, the world's largest organization for suicide prevention and crisis intervention for LGBTQ+ youth, through a two-year $750,000 commitment and WarnerMedia led PSA during Pride Month.
Since 2018, AT&T has committed $2.75 million to the Trevor Project, which has helped the organization modernize and transform their suicide prevention capabilities.
In 2020, the LEAGUE Foundation awarded 15 scholarships to LGBTQ. The LEAGUE Foundation provides scholarships to LGBTQ+ college-bound high school seniors.
AT&T supports initiatives that promote safety and inclusion for LGBTQ+ youth, including The Trevor Project's suicide prevention and crisis intervention services, HRC's Time to THRIVE conference, Born This Way Foundation's work to promote wellness and empowerment for young people, , and the Tyler Clementi Foundation's work with parents, educators, faith communities and employers to prevent bullying and build cultures of inclusion and acceptance.
AT&T is a proud sponsor of the Human Rights Campaign (HRC) and the Human Rights Campaign Foundation (HRCF). For many years, AT&T has been a sponsor of the HRC National Dinner and HRC Foundation programs.
Through funding and employee volunteering, AT&T supports various HIV/AIDS charities, including Broadway Cares/Equity Fights AIDS, SF AIDS Foundation, and AMFAR.
AT&T is also a member of the HRC Business Coalition for the Equality Act, a group of leading U.S. employers that support the Equality Act, federal legislation that would provide the same basic protections to LGBTQ people as are provided to other protected groups under federal law.
Diverse Employer
Named one of the "Best Places to Work for LGBTQ+ Equality" by the Human Rights Campaign (HRC) for the 15th consecutive year, receiving a perfect score on the Corporate Equality Index for its fair treatment of LGBTQ+ employees.
AT&T ranked No. 10 as a Top Companies for LGBTQ – DiversityInc 2021
AT&T has been a DiversityInc "Top 50 Companies for Diversity" for 20 consecutive years.
AT&T earned the prestigious Hall of Fame spot on DiversityInc's Top 50 Companies for Diversity in 2020 and remained a member of the Hall of Fame in in 2021.
Diversity and inclusion drive innovation at our company. It's important to foster a culture where all viewpoints are considered.

– Corey Anthony, Chief Diversity Officer
Through these initiatives, we can continue making progress on promoting inclusion and equality, deepening our commitment to our employees, customers, and communities throughout the global LGBTQ+ community.
Learn More