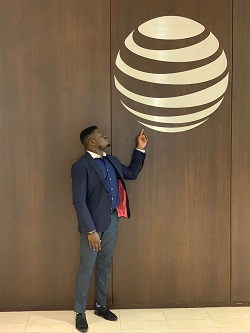 As he completes his MBA, Abraham Kola-Amodu is committed to learning as much as he can about a career in business. So, when he heard about our Finance Leadership Development Program (FLDP), the chance to work for a Fortune 10 company was too good to pass up. What he didn't expect was how diverse the world of corporate finance really is.
"I thought I was coming in to do traditional finance," Abraham explains. "I haven't done any of that."
Instead, Abraham is supporting our billing operations, exploring how he can introduce business customers to digital billing services to lower costs for everyone. Every year, paper bills cost us a surprisingly huge amount to mail and process.
"I bet you didn't think it was that high," Abraham notes. "The more I can move these businesses away from paper bills, the more money we have to either pay dividends, build infrastructure or increase employee bonuses."
Our FLDP connects MBA students to hands-on learning opportunities, supported by mentors who have already carved their own unique path with us. The program comes in two tracks. Like Abraham, you can join our 10 to 12-week internship that starts in the summer. You might also opt for a three-year rotational experience that exposes you to different corners of the company.
As an analyst with our Finance Billing Operations department, Abraham describes his role as largely strategy-based, coming up with ideas and initiatives to improve the billing process. That includes upgrading the customer digital experience, making it easier for businesses to view, pay and receive bills.
And it's clear that Abraham is just as excited by the chance to save customers some green as he is to keep the planet green, too.
"A tree produces 8,333 sheets of paper," he explains. "And we have millions of business customers with as many as 8,000 sheets in their monthly bills. Imagine how many trees we can save by convincing them to switch to a more ecofriendly digital experience."
Even as an intern, Abraham says he's quickly carved out a spot for himself on his team and in his office. The open-door policy means he can be proactive in getting facetime with people across the company. Oftentimes, all it takes is an instant message or a cup of coffee to connect with someone.
Next to his desk is a treadmill, which Abraham says people use to work out while still getting work done. It's that kind of casual vibe that allows him to stroll into the office without a tie on some workdays – a rarity in many finance gigs.
Plus, Abraham is getting exposure to the company that goes beyond just the business department. He'll often get an invite to events hosted by the Xandr advertising team. "It's one, big, happy family," he says.
Perhaps what's most impressed him is how long people have stayed with the company. Abraham notes that in his office, it's very easy to start new roles on different teams that line up with a person's evolving interests.
"It says a lot about the culture that you can have multiple careers, all in the same company."
So as Abraham looks ahead to the next step in his career after graduation, what does he say to students considering the FLDP or AT&T in general?
"Talk to as many people as possible and determine if you want to be here," he advises. "I've found that if you're looking for stability, job security, new projects and balance, you can definitely get that at AT&T."
Learn More