Originally Written By Daria Bijek Kiehne
Lead Financial Analyst (Finance Leadership Development Program)
As an Olympic gymnast, I learned a lot about what it takes to achieve my goals. That's why I was excited to discover AT&T's Finance Leadership Development Program (FLDP), which provided me with the right amount of structure, opportunity and flexibility to set me up for success. As I transition from Olympic athlete to future leader, I look back on the following skills I've been developing my entire athletic career.
Resilience. Twenty years of competitive gymnastics come with a lot of setbacks – especially injuries. Mentally, the toughest injury for me to overcome was a torn Achilles tendon while preparing for the 2004 Olympic Games. It seemed my biggest dream had vanished in the blink of an eye. But I didn't feel like my athletic career was over yet. So, I kept working and took another shot at the Olympics in 2008. I learned that we don't always get what we want when we want it. If we keep doing what we do well, however, we may end up getting more than we wished for. I have found the FLDP to be another great opportunity for me to tackle challenges and learn from them as I strive to reach my full potential.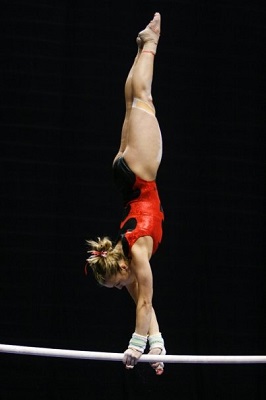 Reset the clock. As a gymnast, I set new goals for myself every season, choosing what dreams to follow and which hurdles to tackle. Building on the previous year's experiences while starting with a clean slate is one of the most refreshing and motivating things in life. The FLDP provides exactly that – an opportunity to chase your dreams, learn from prior successes and failures, and most importantly, reinvent yourself with every new rotation.
Be your own coach. When I was younger, I was lucky enough to work with a coach who encouraged me to "sit at the table." Not only did I decide what skills I wanted to learn, but also what I needed to do to make my dreams a reality. This opportunity put me in charge of my own progress and success, and gave me a sense of responsibility as well as accountability. Today, I would challenge anyone to be actively involved in their development instead of letting someone else or a circumstance run their career for them.
Explore Careers