For an estimated 56 million Americans who struggle with disabilities of all kinds, I hope my story will counter negative perceptions they may have of what we're capable of achieving. If I could withstand a devastating spinal cord injury, I knew others can do the same.
"I've never felt so close to death before."
"I've never felt so close to death as if every rifle crack was the ticking of a clock marking my time on earth."
I'm Abdi Warsame, a Senior Strategic Pricing Manager for AT&T Business Mobility customers. I've been with AT&T for more than 12 years and have held several positions within the company. But the story of how I found myself here began more than 20 years ago, 8,000 miles away in Somalia.
I grew up in Mogadishu with 6 siblings, 5 sisters and a brother. The middle child of a middle-class family, I was an active child who loved soccer and played in neighborhood backyards every day. All of this with the backdrop of Somalia's prolonged civil war.
The war, which had been simmering ever since the confrontation between Somalia and Ethiopia ended a decade earlier, erupted in the capital city of Mogadishu in December 1990. The people of Somalia had finally had enough of their brutal dictator Siyad Barre. Rising to power through a military coup in 1969, Barre ruled with an iron fist, introducing the country to communism, nationalizing private companies and crushing dissidents.
One Fateful Saturday Afternoon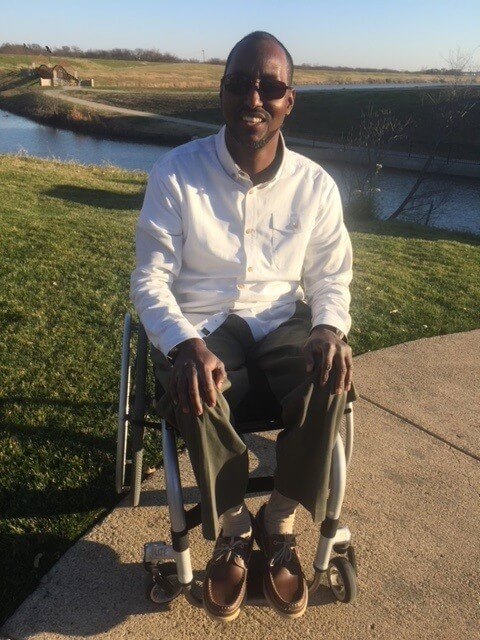 One Saturday in January 1991, I was with my cousins, who had fled their homes to avoid the government's indiscriminate bombing just days earlier. They joined us in my family's house just outside of the city, but they wanted to go back to their homes to pick up some of their belongings. Without hesitation, I went with them. As a child my age, I was always looking for adventure.
I wish the journey home was as easy as the journey there. It wasn't.
After many hours on foot, we made it to my uncle's house. While he asked us to stay the night, we felt it would be much riskier than the 15-mile walk home, despite the impending darkness. Without the light of day or the glow of ample streetlights, Mogadishu would be plunged into darkness. That's when each warring sides would hunker down in their positions and kill anything that moved.
We assured my uncle that our fleet feet and faith in God would carry us safely home.
As darkness grew, we approached a street engulfed in the distinctive sound of sniper fire. Shots reverberated off the half-crumbled buildings. Unlike automatic fire, sniper fire has a rhythm to it.
Any lengthy pauses gave us a confidence that things were safe. We ran single-file across areas where the shooting had subsided. We cut through buildings to escape a more live fire. The shelling recommenced and we ran through an open field like the scared children we were.
Suddenly, things changed in an instant. My next memory is of my cousin, Adun, face down. His right hip split wide open, blood covering the ground like an oil slick. I screamed for help. My other cousin, Dhalin, sprinted to us and fell by his brother's side. He said, "Abdi … Adun is dead."
His words didn't register. Nothing made sense.
Desperate to escape the danger, I tried to stand. I couldn't. The rocket had exploded, killing Adun and changing my life forever. My spinal cord so severely injured, I was expected to never walk again. And with that, the dreams I'd once had up like the smoke rising from the ashes of my country.
A spinal cord injury like mine was a death sentence in Somalia. Or so I thought. But I survived because of my family's tireless, sacrificial efforts and my Islamic faith.
The Light at the End of the Tunnel
After the incident, I fought against my uncooperative body. I fought against fading hopes of ever walking again. I fought to keep my dreams alive. But I knew I had to work incredibly harder to attain them.
Fortunate enough to find my way to the United States, I obtained a B.S. degree in Supply Chain Management from North Carolina State University in 2005.
After many closed doors and going from one interview to next, I landed a job with Cingular Wireless (now AT&T) in Atlanta, Georgia.
Change can lead to Endless Possibilities
After taking on a number of different roles in multiple cities, I received an offer to relocate to Dallas as a Sr. ICB Pricing/Costing Manager. My hiring manager didn't know about my disability until I rolled into his office on June 5, 2014. I didn't tell him about my disability during the hiring process because it didn't matter. And knowing the makeup of those working here at AT&T, I knew it didn't matter to him either.
Last year, I attended an AT&T Women in Technology ERG event in Dallas. There I met the keynote speaker, who talked about diversity and inclusion. As I sat listening, I thought why not also disABILITY & Inclusion?
After chatting with him, he asked me to research programs available to individuals with disabilities at AT&T and identify areas of opportunity. I reached out to IDEAL (now Ability) members to join me in this quest. This led me to a leadership role, and I became the Dallas – Fort Worth Chapter President in October 2017.
Help Drive Awareness
May 17 is Global Accessibility Awareness Day. I ask you to join me and others to help drive awareness around accessibility and inclusion for people with disabilities.
Learn More