At AT&T, we're inspired every day by the women who are driving innovation and breaking the mold within the industry. We are just as inspired by our female employees who have overcome personal strife and, despite the odds, achieved success by utilizing their skills and aligning themselves with our well-rounded organization. Get to know Yami Acosta, who – with the support of AT&T – provided for her family after they fell on hard times, completed her education, and became a success story among our female workforce at AT&T.
If I told my 18-year-old self that I would be celebrating almost 20 years of service with AT&T, doing a job I love (where my diversity is not only embraced, but also a fundamental part of my role), I probably wouldn't believe myself.
My name is Yami. I was born in Torreon, Coahuila, Mexico and have lived in San Diego, CA, since I was 2 years old.  I am the oldest of two children, raised by a single mother who was a migrant worker/seasonal farmworker with only an elementary education and no command of the English language when we migrated. Though she didn't have many resources, my mother always had a strong work ethic, culture, tradition and, most importantly, the American Dream.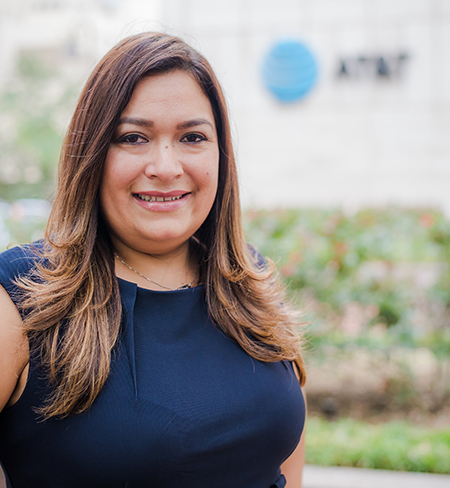 At age 20, I was hired by AT&T as a part-time bilingual sales & service representative serving our Hispanic customers. While working, I also attended community college full-time to obtain my associate's degree in Business Administration.  As fate would have it, shortly after I was hired, my mother was injured at work with significant burns on her hands. As a result, I became the sole provider for my family while she recovered. AT&T gave me the opportunity to become a full-time bilingual sales & service representative and have a steady income.
Coming from humble beginnings, this was a blessing to my family and me. I decided to take a break from school after obtaining my associate's degree so I could continue to support my family. Meanwhile, my mother took English classes, completed her high school education and got a certification in Child Development, which ultimately led to a successful child care business. Once my mom got back on her feet, I was able to obtain my bachelor's degree in Business Management using AT&T's tuition-reimbursement program. Over the course of my 18 years with the company, AT&T has not only enabled me to care for my family, but has also offered me formal career development, meaningful work and great mentors and sponsors. Moreover, AT&T has always embraced my diversity, my culture and my bilingual skill set; which has allowed me to help support our Hispanic community.
Strong and successful women serve as my motivation and inspiration to continue to raise the bar and reach for the sky.  Looking internally at AT&T, I have always looked up to these amazing women and leaders of our company, who have impacted me personally and professionally by sharing their stories and supporting my career:
Jody Garcia – VP, Customer Care. She believed in me, gave me opportunity assignments that always had me sitting at the edge of my seat, taught me to challenge myself and not give excuses and be accountable (but always with her motto in the forefront of "Growth with Respect").
Jamie Barton – SVP, Customer Care, shared her story with me while I attended Summit one year. Her story resonated with me because she started as a service rep just like I had, and moved up to EVP over the years. She taught me that with perseverance and hard work I could also achieve anything I set my mind to.
I have worked hard to make my family proud and ensure that my mother knows that her struggles and hard work weren't for naught. It made me who I am today! I think the 18-year-old-me would be amazed by who I've become.
We are so proud to foster such a strong group of female professionals. After all, diversity is what drives our organization forward. Their stories inspire our employees and help shape our award-winning employee experience.
Check out our open positions and join a team where every voice matters.