"This is a community that is often forgotten about and overlooked. I know the time we give to the Native American community is appreciated, needed and welcomed."
Rachel Salinas is the National Treasurer of AT&T's Inter-Tribal Council of AT&T Employees. Often referred to as ICAE (pronounced "Eye Kay"), the Council stands as one of our employee groups (EGs) that help our employees make new connections with people and their culture. ICAE, specifically, is focused on Native American culture and community. Joining Rachel is Andrew Simons, Vice President of the same Texas Council and graduate of our Leadership Development Program (LDP).
Starting her career with AT&T in 2000, Rachel joined us as a call center representative. She quickly realized that, in addition to benefits such as tuition reimbursement and the ability to accomplish good work for customers, she had an opportunity to turn the job into a career. Today, along with her duties as ICAE Treasurer she also works as Senior Project Program Manager in our Dallas office.
AT&T EGs are just one of many channels our people have to learn more about the business while helping others. "I didn't learn a lot about EGs until six months into the company. They're especially useful for new hires who are coming in and learning how to network."
Andrew can attest to that. Joining AT&T back in 2015, he transitioned from engineering to the LDP rotating through different fields of business over a two-to-three-year period. As part of the program, he moved to Long Beach, CA – a far cry from his Florida home. That's where another EG, InspirASIAN stepped in.
"It was good to be outside my comfort zone, but I didn't know anyone. InspirASIAN helped me feel like I was part of a family; they offered the opportunity to feel welcome. It was nice to find a group that shared their experiences and taught me about a different culture."
Making a True Impact
Through their individual experiences with other employee groups, both eventually landed in ICAE. Though each had different reasons to join, a common thread links Rachel, Andrew and other ICAE members together.
About joining ICAE, Rachel said,"I wanted to learn more about the Native American culture. It also lined up with joining a group that I didn't know much about… We're not one of the biggest EGs, but we serve as a voice for the Native American community. Our work with ICAE aligns with two of our values, 'Be There' and 'Make a Difference', showing the community that we're there for them."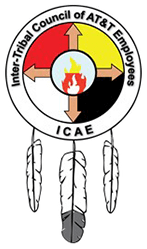 Andrew added, "When I heard about an EG focused on Native Americans, I didn't really know of similar opportunities in other companies. What motivates me is the impact. We support one of the most, unfortunately, overlooked and forgotten groups in this country. It's very rewarding to work with ICAE. You have to face reality to change it."
In 2021, ICAE was able to award $34,500 in scholarships, a key initiative of the organization to support Native American youth in their pursuit of education.
Discovering Our Roots
Rachel and Andrew are just two of the thousands of members in ICAE working to make a difference. No matter how small, ICAE always works to set up a table at every AT&T employee event. Doing so helps increase their visibility, membership, and ability to share Native America culture with other employees.
"Being with ICAE, we have learned a little bit more about our roots," Rachel said. "I've been on a journey to connect to my Indigenous roots and heritage. I have discovered I am a descendent of the Lipan Apache Tribe of Texas."
"I found out I'm a bit under 10% Indigenous Panamanian," Andrew said.
"A lot of people come to us asking how they can connect to their Native American roots or how they can be an ally to the Native Community. We encourage them to join ICAE, learn about the Tribes in their area. That's one thing we believe in: All are welcome, and we are all related."
ICAE's motto:
Our conduct shall be honorable to the Native American people, the environment, the memory of ancestors and all who live on Earth. We work together to make a positive impact with our thoughts and deeds.
"MitaKuye Oyasin"
(We Are All Related)
Learn more about our employee groups