Are you a recent grad who's passionate about technology? Do you live by the latest and greatest tech trends? Then you belong at AT&T. With our technology development programs, you can have a chance to enhance your skills and learn from real-world innovators. Plus, it's a great opportunity to get your foot in the door – just ask Nicole Slay. She participated in our Technology Development Program – Software Development (TDP – SD) and now she's a project manager for AT&T's Integrated Cloud Front Door Team.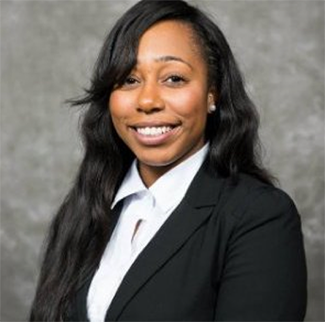 What drew you to a career at AT&T?
My internship! While other intern programs were great and taught me the fundamentals of business and the fast-paced IT world, AT&T's internship did a great job at giving me not only professional development, but personal development as well. I was introduced to an immersive culture at AT&T with a diverse group of people. There was no doubt that I wanted a full-time career at AT&T.
What did you enjoy most as a Technology Development Program (TDP) intern?
What I enjoyed the most about being an intern was having the Technology Experience Center as my client team. I had first-look advantages of the latest technologies and received hands-on training with these developments. From learning all about Telepresence to hosting tours to programming the iRobot, it was an unforgettable experience.
As a former intern, can you tell us how the internship program prepared you to succeed? 
The internship really helped develop my communication skills. I never realized how important communication skills are – whether taking on a project management position or a development position. Presentations are a big part of what I do now, and the TDP – SD program did a great job making sure I was well-prepared.
How has AT&T supported your growth during your internship and beyond?
While interning, AT&T allowed me to participate in coding challenges and business communication courses, as well as to get an industry-leading certification for FREE. I was also a part of a mentoring circle that allowed me to ask questions and get advice on career paths and progressions within AT&T from top professionals. My internship helped me have a more concrete understanding of different methodologies and allowed me to grow my coding knowledge whenever I saw fit. There were so many great things I gained from my internship that have allowed me to be the professional I am today.
What opportunities did your internship provide you to reach out and connect with employees across the company?
I've been able to participate in Employee Resource Groups (ERGs) like oxyGEN, which supports professional and personal growth for young professionals. The TDP-SD internship program had volunteer day and planned group events that allowed me and my peers to network with other interns and full-timers in other TDP programs. Really, however you want to develop your personal brand, AT&T has a space for it.
Tell us a little about where you're located and your workspace.
I'm located in Midtown Atlanta and I must say this is a diverse workforce here at my location. Our floor is an open, collaborative environment that I am sure anyone would enjoy. … Plus, there is free coffee. There is so much to do here in Atlanta, from riding the Ferris Wheel to eating at the legendary Varsity. Literally anything you can think of can be done in Atlanta.
What was your favorite part about your #LifeAtATT as an intern and what made you want to stay with us full time?
I think AT&T does a good job with picking their pool of interns and full-timers. I thoroughly enjoyed everyone in my internship program, as well as people within TDP and CDT. Everyone was different but still shared the same passions for innovation and collaboration. It is very hard to find a culture as diverse as AT&T.
Thinking about what's made you successful in your role, what's your best advice for a college student preparing to get into the field and looking for internship opportunities?
Never think you do not know enough because you do. Never be afraid to ask questions because it's expected. Never be afraid to BE YOU!
How did your internship prepare you for your full-time position with AT&T?
I was able to jump into my full-time role with ease due to my internship. I already understood the corporate culture, I already had hands-on experience with immersive AT&T technologies, and my communications skills were super polished.
What's your favorite moment so far while working at AT&T?
My favorite moment: Being able to wake up and actually be excited about coming to work. Great people, engaging client work … and did I mention free coffee?